I am an author, academic and communications professional with interests in robots, AI, science fiction and war. 
My achievements to date include a published novel, The Darkest Hour, alongside book chapters on 1960s science fiction and the film Blade Runner 2049. I am also an active member of several research networks including TTAC21, and academic podcast, In The Zone.
Away from academia, I have worked in a range of communications-based roles including professional ghostwriter, content writer and web editor in sectors as diverse as healthcare, video games and higher education. If you have any questions about my experience, or availability, please get in touch.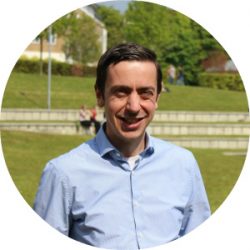 Publications
Books, book chapters and articles
'War Stories', in Fuzzy Revolutions (forthcoming 2020) [book chapter]
'The Final Frontier', in Fuzzy Revolutions (forthcoming 2020) [book chapter]
'Lessons from science fiction: Frederik Pohl and the robot prosumer', Journal of Consumer Culture (forthcoming 2020) [article]
'The Trouble with Joi', in Blade Runner 2049 and Philosophy (2019) [book chapter]
'Microfascism and the Double Exclusion in Flowers for Algernon', Foundation: The International Review of Science Fiction (Spring 2019)​ [article]
Submitted and currently in review
'EMSIAC Wars: Reinserting the Human in Bernard Wolfe's Limbo', Extrapolation [article]
'Conscripts From Birth: War and Soldiery in the Grim Darkness of the Far Future', Fantastika Journal [article]
Editor
'Good Practice Guide for Student Experience (GPG#45)', ed. by M.J. Ryder, Association of University Administrators [guide]
Other publications
Widely published in the healthcare press, including: Dentistry, The Probe, DH&T, Private Dentistry, PPD, GP Magazine, Management in Practice, Practice Business
Ghostwriter of The E-Myth Dentist (ISBN: 978-1618350251) [book]
The Darkest Hour (2018) [novel]
For further details on my publications, please browse my online portfolio. If you have any questions about my publications, or contributions, please contact me.
Teaching
ENGL100 – English Literature
One class of up to 12 students over two terms (two years)
Engaged students in debates around key topics in literary studies
Gave detailed feedback on student essays and produced teaching materials to enhance future courseworks including lecture slides and handouts
Weekly office hours with students responding to questions and advising on research
MKTG101 – Introduction to Marketing
Four classes of 20 students over three terms
Collaborated with teaching staff to ensure teaching consistency across the course
Applied real-world experiences to marketing case studies, encouraging students to engage with marketing theory and question the way things are done
MNGT110 – Introduction to Management
Two classes of 20 students fortnightly for two hour sessions
Led discussion around academic papers and their application to real-life scenarios
Facilitated group work around management case studies, linking theory to practice
MNGT120 – Business and Management: An Introduction to Theory and Practice
Two classes of 20 students over two terms, plus additional exam marking
Marked and moderated numerous group project presentations
Provided pastoral support and informal mentoring for several students struggling to settle in
MNGT322B – Work-Based Learning
Delivered fortnightly seminars to students undertaking a year in industry
Supported students in reflecting critically on their work placements and writing reports to summarise their experience and learning
ENGL419M and ENGL149LS – Research Methodology and Reflective Practice in English Literature
Mentored postgraduate students on the English Literary Studies MA
Facilitated interactive group activities to meet course objectives
MKTG500 – Marketing Skills Development
Provided detailed academic feedback for up to 100 essay submissions for Lancaster University's MSc in Marketing
Misc. teaching
Delivered two careers lectures to sociology students at Canterbury Christ Church University
Ran workshops on digital marketing for academics at several conferences including the NWCDTP's annual postgraduate conference (2017), and Embodying Fantastika (2019)
Managed a team of writers as part of my job role at EK Communications Ltd where I trained new team members and provided mentorship and support on how to work with clients and meet the varied demands of professional writing
Professional development
Completed the course 'Introduction to Teaching at Lancaster' (Oct 2019)
Enrolled on Lancaster University's Associate Teacher Programme for 2019-2020, building reflective practice into my teaching
Conferences
Organiser 
Embodying Fantastika, Lancaster University (Aug 2019) 
Postgraduate Research Conference, Lancaster University (May 2018) 
Exploring Identity: Between Being and Belonging, University of Liverpool (Oct 2017) 
Speaker
'Conscripts from birth: war and soldiery in grim darkness of the far future'
Embodying Fantastika, Lancaster University (Aug 2019) 
'Performance, Gender and the Trouble with Joi'
Current Research in Speculative Fiction, University of Liverpool (Jun 2019)
'The gates of our world: Vietnam and the (re)birth of biopolitics'
Human Technologies, Digital Humanities, University of Salford (Oct 2018)
'Exclusions through time: Charlie Gordon and the biopolitical paradigm'
After Fantastika, Lancaster University (Jul 2018)
'The Literature of Drones: Ethics and Remote Killing in Orson Scott Card's Ender's Game'
Current Research in Speculative Fiction, University of Liverpool (Jun 2018) 
'War and the satire of the body: The Vol-Amp movement in Bernard Wolfe's Limbo'
The Human Body and World War II, University of Oxford (Mar 2018) 
'Artificial Identity: AI Subjectivity in the Far Future'
Exploring Identity: Between Being and Belonging, University of Liverpool (Oct 2017)
'Beyond the Horizon: Law, Exception and Conflict in Outer Space'
Iredell Law Conference, Lancaster University (Jul 2017)
'"Future Soldiers": the Soldier, the Citizen and the State'
Current Research in Speculative Fiction, University of Liverpool (Jun 2017)
Hosted training workshop
'Building your digital profile'
Embodying Fantastika, Lancaster University (Aug 2019) 
'Digital Marketing for Academics'
Exploring Identity: Between Being and Belonging, University of Liverpool (Oct 2017)
For more information on my conference activities please see my page on conferences and workshops.
Engagement
Articles
I am frequently published in The Conversation, and my work has been re-published in the national press including:
'Visions of the future', Mensa, December 2019 [forthcoming]
'Insurance black boxes and the surveillance state', The Scotsman, 31 July 2019
'VAR: In football, as in war, sometimes we need a human touch', Metro, 26 June 2019
'Killer robots are not science fiction', Independent, 9 April 2019
Interviews
'Evil genius: Fly, my pretties, fly!', The IET, 2 August 2019
'Scientists create DNA robots that eat and EVOLVE', Daily Star, 4 May 2019
Radio interviews
'The Introduction of VAR', TBS eFM (Seoul, South Korea), 19 August 2019
'DNA-based robots', talkRADIO, 12 May 2019
Blogs and podcasts
For more information, see my page on academic engagement.
Funding and Awards
Awarded £1,100 by the NWCDTP's Cohort Development Fund towards the delivery of the conference 'Embodying Fantastika' at Lancaster University, 8th–10th August 2019
Fully-funded AHRC PhD studentship for three years, including £14,000 per annum and fees paid in full, October 2016 to July 2019
Won the 'Gompertz Prize for English' for attainment in my undergraduate degree at Brunel University 2010
Other awards
Lancaster University Staff Award – 'Outstanding Achievement' (2019) [nominated]
Lancaster Gold Award (2019)
Student Employee of the Year – 'Above and Beyond' (2017) [regional winner]
Research Interests
Science Fiction
Authors including (but not limited to): Heinlein, Dick, Le Guin, Pohl, Asimov, Clarke, Vonnegut, Keyes, Disch, Butler, Delany, Verne, Wells
Vietnam and the Cold War
History, social impact, cause and consequences
Technology and social change
Biopolitics
Bare life, state of exception, inclusions and exclusions
Theorists including (but not limited to): Agamben, Deleuze, Derrida, Foucault, Badiou
Military Ethics
Autonomy and responsibility
Drones and AWS
Business, Management and Marketing
Consumer culture / consumption
McDonaldization and de-McDonaldization
Technology, mass production, Fordism, automation, social media
[Mike] has an amazing knowledge base [...] and is a keen analytical thinker. Mike's work ethic is second to none, his sense of professional responsibility is steadfast and he willingly guides colleagues through their work when help is needed. His intellect and skills make him a valuable part of any team, and it has been an absolute pleasure to work alongside him.
Mike is one of the most reliable, skilled and hard-working people I've ever met. A talented writer, he can turn his hand to any topic or medium with ease. Together with exceptional organisational and communication skills, Mike always meets the brief and the deadline. In fact, he often exceeds expectations [...] A true team player, he will go above and beyond on every project to make sure it succeeds.
One of Mike's core strengths [...] is his ability to adapt to changing work priorities and successfully deliver projects critical to his employer's success. Mike was a very valued member of our community of digital specialists [at CCCU] and his legacy [...] remains to this day. I very much enjoyed working with Mike and I have great expectations of his future career.