Hello and welcome to MJRyder.net, home of writer and academic M.J. Ryder (Mike Ryder). I have many years' experience working as a professional ghostwriter and marketing expert in industries as diverse as entertainment, healthcare and higher education, and have been widely published in each of these fields. I also work in academia, where I specialise in English literature, marketing and philosophy, with a particular interest in robots, tecnology, sci-fi  and biopolitics. Read on to find out more…
In March, I published an article in The Conversation on the subject of 'killer robots' and the robotization of human subjects. I was later asked to provide analysis for an interview piece in the Daily Star online. I was then invited to appear on talkRADIO, to give expert comment on an item about robot ethics.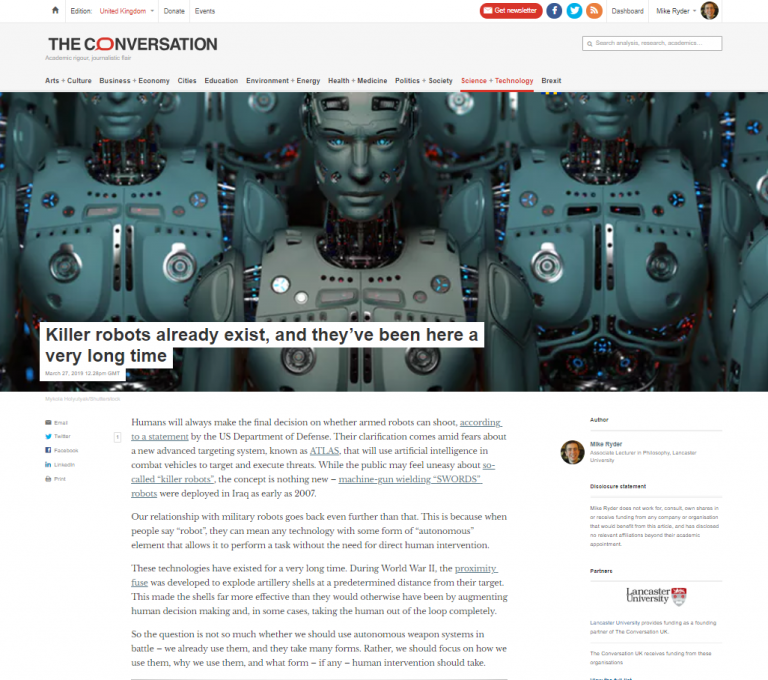 Mike is incredibly hardworking with a phenomenal range of technical, editorial and creative skills. He has proved absolutely invaluable to the team and has quickly developed a reputation within the University that has led to more and more teams inviting him to lead on projects. I'd certainly recommend taking any opportunity you have to work with Mike.
One of Mike's core strengths [...] is his ability to adapt to changing work priorities and successfully deliver projects critical to his employer's success. Mike was a very valued member of our community of digital specialists [at CCCU] and his legacy [...] remains to this day. I very much enjoyed working with Mike and I have great expectations of his future career.
[Mike] has an amazing knowledge base [...] and is a keen analytical thinker. Mike's work ethic is second to none, his sense of professional responsibility is steadfast and he willingly guides colleagues through their work when help is needed. His intellect and skills make him a valuable part of any team, and it has been an absolute pleasure to work alongside him.