I am an author, academic and communications professional seeking employment in academia commencing October 2019. I am currently in process of finalising my PhD, which I will submit on 1st October, ready for examination before the end of the calendar year.
My achievements to date include a published novel, The Darkest Hour, alongside book chapters on 1960s science fiction and the film Blade Runner 2049. I am also an active member of several research networks including TTAC21, and academic podcast, In The Zone.
Away from academia, I have worked in a range of communications-based roles including professional ghostwriter, content writer and web editor in sectors as diverse as healthcare, video games and higher education. If you have any questions about my experience, or availability, please get in touch.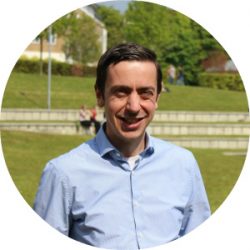 Publications
Books, book chapters, articles and reviews
The Darkest Hour (2018) [novel]
'After Fantastika – Conference Report', Foundation: The International Review of Science Fiction (Winter 2018)
'The Trouble with Joi', in Blade Runner 2049 and Philosophy (Pending: 2019) [book chapter]
'War Stories' and 'The Final Frontier', in Fuzzy Revolutions (Pending: 2019) [book chapters]
 'The Compliance Function: Microfascism and the Double Exclusion in Daniel Keyes' Flowers for Algernon', Foundation: The International Review of Science Fiction (Pending: Spring 2019)
I have also edited the following for the AUA:
Other publications
Outside my academic and literary work, I am widely published as a ghostwriter in the healthcare trade press. My publications in this area are too many to list, however I did ghost-write a popular business book:
For further details on my publications, please browse my online portfolio. If you have any questions about my publications, or contributions, please contact me.
Teaching
I currently teach on two modules at Lancaster University:
ENGL100 – English Literature
Seminar group running on Wednesdays, 9–10am. The course introduces students to a broad range of literature from the Middle Ages to the 21st century, from Geoffrey Chaucer to Philip K. Dick and Jackie Kay. The course is a taster of famous and infamous texts through the Renaissance, Victorian, Romantic, Modern and Contemporary periods and the many and varied approaches to reading literature
MNGT120 – Business and Management: An Introduction to Theory and Practice
Two seminar groups, running on Fridays, 4–6pm. The course introduces students to a broad range of theories in areas such as management, motivation, teamwork and organisational culture, with an emphasis on linking theory and practice together, encouraging students to think critically about their own experiences and the wider world of work.
Conferences
Organiser 
Embodied Fantastika, Lancaster University (August 2019)
Postgraduate Research Conference, Lancaster University (12 May 2018)
Exploring Identity: Between Being and Belonging, University of Liverpool (25–26 October 2017)
Speaker
Human Technologies, Digital Humanities, University of Salford (10–11 October 2018)

'The gates of our world: Vietnam and the (re)birth of biopolitics'

After Fantastika, Lancaster University (6–7 July 2018)

'Exclusions through time: Charlie Gordon and the biopolitical paradigm'

Current Research in Speculative Fiction, University of Liverpool (29 June 2018)

'The Literature of Drones: Ethics and Remote Killing in Orson Scott Card's Ender's Game'

The Human Body and World War II, University of Oxford (23–24 March 2018)

'War and the satire of the body: The Vol-Amp movement in Bernard Wolfe's Limbo'

Exploring Identity: Between Being and Belonging, University of Liverpool (25–26 October 2017)

'Digital Marketing for Academics'
'Artificial Identity: AI Subjectivity in the Far Future'

Iredell Law Conference, Lancaster University (7 July 2017)

'Beyond the Horizon: Law, Exception and Conflict in Outer Space'

Current Research in Speculative Fiction, University of Liverpool (9 June 2017)

'"Future Soldiers": the Soldier, the Citizen and the State'
For more information on my conference activities please see my page on conferences and workshops.
Engagement
Personal portfolio website and blog sharing research, comment and insights from the world of academia. 
A research network blog on Terrorism, Technology and Armed Conflict in the 21st Century. I have been a regular contributor since the site started in 2017.
An academic podcast covering anything and everything from law and technology to philosophy and religion. 
The Conversation is an independent source of news and views, sourced from the academic and research community and delivered direct to the public. 
I was recently interviewed in The Daily Star online, for a feature about robot ethics.
For more information, see my page on academic engagement.
Research Interests
Science Fiction
Author including (but not limited to): Heinlein, Dick, Le Guin, Pohl, Asimov, Clarke, Vonnegut, Keyes, Disch, Butler, Delany, Verne, Wells
Vietnam and the Cold War
History, social impact, cause and consequences
Technology and social change
Biopolitics
Bare life, state of exception, inclusions and exclusions
Theorists including (but not limited to): Agamben, Deleuze, Derrida, Foucault, Badiou
Military Ethics
Autonomy and responsibility
Drones and AWS
Business, Management and Marketing
Consumer culture / consumption
Technology, mass production, Fordism, automation, social media
Mike is incredibly hardworking with a phenomenal range of technical, editorial and creative skills. He has proved absolutely invaluable to the team and has quickly developed a reputation within the University that has led to more and more teams inviting him to lead on projects. I'd certainly recommend taking any opportunity you have to work with Mike.
[Mike] has an amazing knowledge base [...] and is a keen analytical thinker. Mike's work ethic is second to none, his sense of professional responsibility is steadfast and he willingly guides colleagues through their work when help is needed. His intellect and skills make him a valuable part of any team, and it has been an absolute pleasure to work alongside him.
Mike is one of the most reliable, skilled and hard-working people I've ever met. A talented writer, he can turn his hand to any topic or medium with ease. Together with exceptional organisational and communication skills, Mike always meets the brief and the deadline. In fact, he often exceeds expectations [...] A true team player, he will go above and beyond on every project to make sure it succeeds.
One of Mike's core strengths [...] is his ability to adapt to changing work priorities and successfully deliver projects critical to his employer's success. Mike was a very valued member of our community of digital specialists [at CCCU] and his legacy [...] remains to this day. I very much enjoyed working with Mike and I have great expectations of his future career.