During my time at Lancaster University, I have been involved in a number of communications / marketing projects including the publication of the weekly My Lancaster newsletter, a 'Good Practice Guide' for the AUA, and a freelance project to migrate and refresh the Graduate College's website.
Weekly newsletter
My Lancaster is a weekly email newsletter produced by Student Based Services and sent out to all students at Lancaster University. It features bespoke content for users broken down by their year group, their college, and whether or not they live on campus.
Content is sourced from a range of locations including the student portal, college mailing lists, social media, the students' union website, local events pages and direct email.
Once content has been sourced and judged suitable for publication, it is redrafted, and added to the newsletter alongside appropriate supporting imagery. We then conduct a range of QA tests, checking image alt tags and distribution lists, testing links and conducting several rounds of proof reading.


Good practice guide
I am listed as Assistant Editor on the AUA's Good Practice Guide for Student Experience (GPG#45). In this role I project managed and compiled the submissions of several different members of staff, and ghost-wrote several parts, while re-writing others to produce a single coherent piece. The guide was launched by the AUA in June 2017.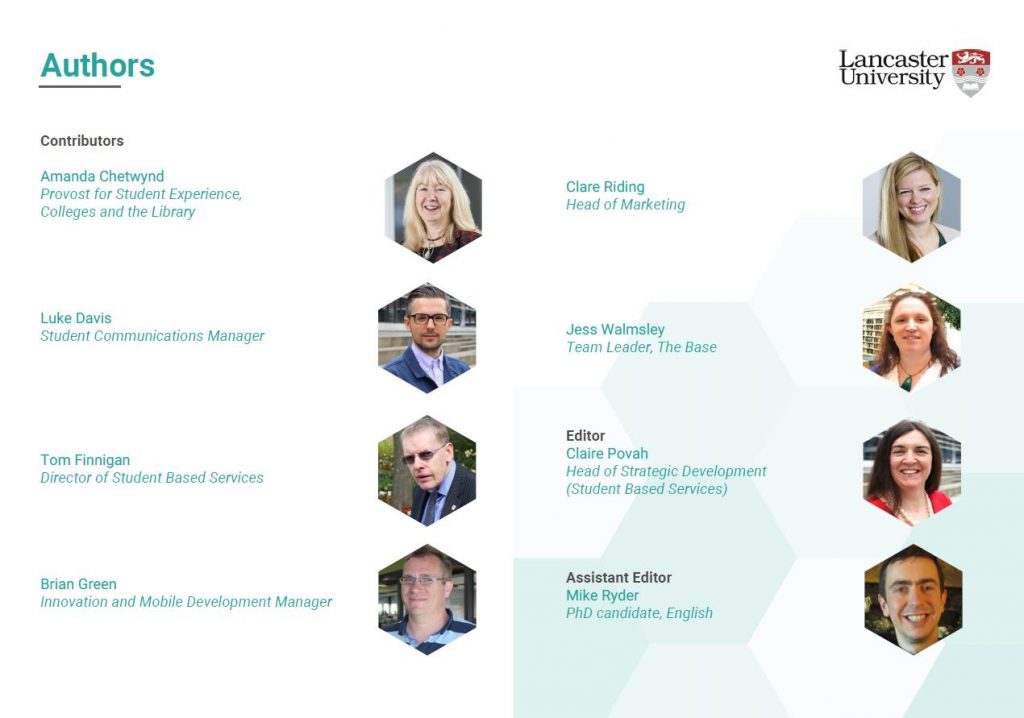 Student Employee of the Year 2017
In summer 2017 I was named a regional winner in the Student Employee of the Year awards. My success was featured in the My Lancaster newsletter.
College websites
As a result of my extensive experience in higher education comms, I was asked if I might be able to work on the new Graduate College website, migrating content to the new templates and restructuring the site to give the site more focus.
In much the same way as my work at CCCU, I began by conducting a full content audit and review, and followed this up with meetings with several key stakeholders. I then drafted content and sourced images for what is a very different style of web template, using as it does very wide 'letterbox' default images for landing pages.
The new Graduate College website was published on time and to specification in July 2017. As a result of my work , I was later contacted by the team at Bowland College to see if I could help them finish their own website, as the member of staff dealing with the project was set to leave the University to start a new role. I was pleased to help, and based on extensive feedback amended the work-in-progress structure for successful launch in time for the new academic year. I was subsequently asked to build a brand new website for Pendle College, which was published in May 2018, and Lonsdale College, which went live in August 2018.
This slideshow requires JavaScript.
National Student Money Week
In Q1 2018 I completed work on a comms campaign for National Student Money Week (NSMW) at Lancaster University. As part of this work I created a detailed comms plan, and produced all the communications materials necessary to promote the week across various channels including social media, the My Lancaster newsletter, and the Student Portal.
This slideshow requires JavaScript.
Other work
In addition to the above, I also recently assisted in the Student Based Services 'away day', working alongside the Communications Manager as a journalist for the day, covering the event and producing follow-up publication summarising the day in a bright and engaging format for those who were unable to attend. I have also submitted various reports for improving student experience at Lancaster, and have provided personal profiles and comments for some of the University's printed materials given to students.